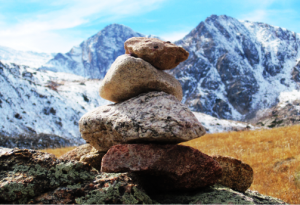 Many people have a bucket list that they are slowly but surely marking off their feats and adventures. Many of these lists contain "hiking a 14er." What does that mean exactly? A 14er is a mountain that has a peak at or above 14,000 feet. These gorgeous mountains make for breathtaking views and an incredible sense of accomplishment. Colorado has some of the best 14ers in the country, and the Rocky Mountain hiking trips from Kirk's Mountain Adventures can help you accomplish your 14er goals! Everyone that is planning on hiking a 14er should do so with caution, and professional help.
Thin Air
The air at the top of the mountain can be much thinner than even natives to Colorado are use to breathing. This lack of oxygen can lead to altitude sickness. When you summit a mountain too quickly, altitude sickness is a very real possibility. Individuals that are suffering from headaches, shortness of breath, tightness in the chest, excess fatigue, or unexplained weakness should tell their guides. These experienced individuals understand how to help people decrease the effects of altitude sickness or can help them back down the mountain if need be.
Set A Realistic Time Frame
Hiking a 14er is not a ½ day trip. This is an early start, hike all day sort of event. The weather can change at the drop of a hat so starting early can keep you and your hiking party out of  the potentially dangerous weather. Also, if the weather does start to turn, do not push forward to reach the summit. It is also recommended that each individual be physically fit, and properly packed with the right gear for a strenuous hike. Food, water, and the right hiking outfit/shoes are imperative to the outcome of a 14er.
Let Kirk's Guide You
When individuals would like to hike a 14er but do not know where to start, call up Kirk's Mountain Adventures. Our experienced guides will help hikers of all experience levels tackle some of the most majestic mountains in the United States. Call today to inquire about our Guided Longs Peak Trips!