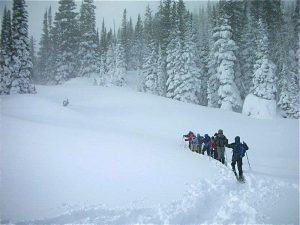 It is here. Yep, the day that separates us from the British — Tax Day. Well to be fair, we revolted against taxation by the British so that we could keep our money at home. So really, we owe the British for our internal revenue system. This time of year is like Christmas for some of us because we get a refund and what is better than getting money back from the government that you already earned, that they got to use for a majority of the year? At Kirks Mountain Adventures, we think you should use your tax refund to get up here to Estes Park and have an epic adventure. This time of year the sheer number of available trips is incredible. We are sure we can find the perfect trip for you.
With the transition between spring and summer in the Rocky Mountains, comes a season that lower elevations really have no idea about. It is a time when you can go fly fishing in cold trout streams, hit the slopes for some epic spring skiing, and bask in the afternoon sun while sipping a craft beer from one of our local breweries. Yes, it is that amazing up here and we would love to book you the trip of a lifetime.
Snowshoeing
If you have never done it (or live in Texas), snowshoeing is an incredible winter activity. Think hiking — but on snow. (Yeah, okay so maybe that is not the best way to describe it.) Snowshoeing is much more than just walking on snow, it is truly an experience in itself. You are able to access areas that can seem completely inaccessible. The crowds of summer are dramatically reduced, in fact it is not uncommon to see more wildlife than fellow snowshoers. The landscapes of Rocky Mountain National Park are some of the most spectacular in spring. Grand meadows filled with a blanket of powder, melting in the afternoon sun, will soon give way to a field of wildflowers and you get to see it in a different context than the summer hikers. Snowshoeing might sound like a lot of work but in reality, walking in snowshoes is actually really easy and with a few steps, becomes intuitive. We offer a variety of different snowshoe hikes for almost all ability levels.
Get Up Here!
Now, doesn't that make you want to book a trip right now? If you have other plans for your tax return, like that big poofy mattress you have had your eye on for a while, this is the perfect time to consider a summer adventure. Have you always wanted to stand on the highest peak in the world? We can't help you with that, but we can get you to the top of one of the most coveted summits in the Rockies, Longs Peak. Right now Longs Peak is a technical climb and quite dangerous until the snow melts, but come July summiting is safe. So, forget the poofy mattress and celebrate Tax Day by contacting Kirks Mountain Adventures for your ultimate Rocky Mountain experience. Join us up here!