Snowshoeing Trips
Guided Snowshoe Trips into Scenic Rocky Mountain National Park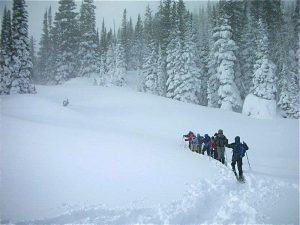 Snowshoeing is one of the friendliest sports for everyone. Mother nature will provide you with snow… and all that is left for you to do is to bundle up in warm clothing, strap on some snowshoes (no need to worry if you don't own them, we provide them) and have a desire to explore the outdoors. Rocky Mountain National Park has great Snowshoeing December through March.
One of the premier snowshoe trips, Dream Lake to Emerald Lake, offers stunning panoramic views, frosted evergreens, giant snowdrifts, and snow filled chutes for beginners to intermediates.
Beautiful forests, vast meadows, a feast for your eyes, solitude for your soul on an intermediate snowshoe trip to Mills Lake and up to Black Lake.
Imagine yourself deep in the back-country, following a snowshoe trail sunk into several feet of white powder.  Your trail twists through open pine forests and meadows climbing above tree line to 12,300' under the bright western sun. This is one of our more challenging snowshoe trips up Flattop Mountain.
Let us guide you through our vast, pristine park in a way few are able to experience it. For more than 15 years, we've provided opportunities for visitors to experience the beauty of Rocky Mountain National Park on snowshoes.   Adventures range from three to eight hours depending on what you are seeking in your day. No experience is necessary and Kirks provides snowshoes, poles and gaiters. Snacks and drinks are provided on all trips and lunch on the six and eight hour trips. Participants should wear layered and insulated clothing, hats and gloves with sturdy, waterproof shoes or boots.
Your Trip Includes:
* Experienced, friendly guide
* Snowshoes and poles
* Gaiters
* Hot Chocolate or Coffee and snack on 3 Hour Trip.  $105 per person ($135 for one person).
* Hot Chocolate or Coffee and lunch on 6  Hour Trip.  $135 per person ($185 for one person).
* Hot Chocolate or Coffee and lunch on 8 Hour Trip.   $160 per person ($235 for one person).