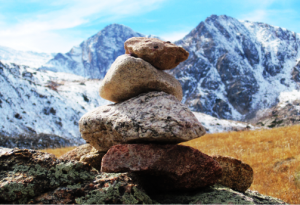 The big buzz around reality TV these days is survival and emergency preparedness. At any given time it is possible to flip on the TV and catch a show with survival as the premise. Some of them are bearded, some have long hair, they are wise beyond reason about the outdoors and seem to know everything possible about the area they are surviving in. It makes you wonder how many of them pull out their smartphone and compare pictures of poisonous ant larva with the innocuous albino goat beetles on the stump before them. Nobody ever dies or gets hurt in these mountains that reality TV seems to run so freely through. The mountains are portrayed as a place that, if you set foot in you will be chased by wild creatures, forced to eat long dead animals and will only find your way out with a dirty bottle of scavenged water and a compass made from the bones of a chipmunk. This could not be further from the truth. Particularly when you have a guide service like Kirks Mountain Adventures we get you out there… and then we get you out of there.
Real Reality
The "reality" TV shows that are out there these days are sometimes packed with decent advice from the charismatic hosts. How to cook a drowned pygmy goose, how to build a tent out of nothing but salvaged American cheese wrappers and the all time best, how to get the talkative pretty girl out of the woods after you make her eat something gross. All of these plot twists make it seem like wilderness is a pit from which you never return. Of course it makes for good TV and that is what sells. Ironically, the extreme beauty of the mountain wilderness is generally overshadowed by the flexing of the hosts and the egregiously logoed gear they are using.
If you want to see the real mountains in all of their splendor, the way that Lewis and Clark may have, as the inspiration for America the Beautiful; Kirks Mountain Adventures is your Rocky Mountain National park wilderness guide service.
See Wilderness Up Close
We have years of experience guiding in the park. Leading overnight backpacking trips, llama trips and even a multi-day summit bid of the majestic Longs Peak. All of our trips are all inclusive and we even supply the gear if you so desire. Our guides are professional, knowledgeable and can guide you to some of the most breathtaking terrain in the park. All you need is the desire to see jaw dropping mountains, crystal clear waterfalls and maybe even some native wildlife, we bring the rest. If this sounds like the ideal way to spend a summer weekend, reserving your guided hiking trip with Kirks is only a click away, and we promise you will not have to eat albino goat beetles.